The seeds of the first Homoeopathic Medical College of Lucknow were sown in 1912 by G. N. Ohdedar which existed till 1920 when Dr. B. S. Tondon of Lucknow did a herculean task by establishing National Homoeopathic Medical College and Hospital in 1921. Later on it was registered under Society Registration Act 21, 1860 in 1938. The first Principal was Dr. G. C. Das, who was direct disciple of Dr. J. T. Kent Chicago, USA. The first course started in N. H. M. C. was of 2 years H. M. B., which was later upgraded to 3 year from 1940 to 1949. In the year 1950, a four year diploma course of B. M. S. was started which was later affiliated to Homoeopathic Medicine Board in 1954. It was provincialized by uttar Pradesh Government in the year 1968. The first five year degree course known as G.H.M.S. was commenced in 1958 and the college was affiliated to Agra University, Agra. N.H.M.C. became Asia's first degree college of homoeopathy in 1961.
The College was disaffiliated by Agra University, Agra in 1966 due to nonconformity of minimum standards and gain B.M.S. diploma course was enforced. It was in the year 1971 when the college was affiliated to Kanpur University, Kanpur and G.H.M.S. degree course reinstated which continued till 1980.To give uniformity, the first B.H.M.S. five and half year degree  course was started in 1981 for which admissions were taken through C.P.M.T. At that point of time the college was again affiliated to erstwhile Agra University, Agra which was later named as Bhim Rao Ambedkar University, Agra. The admission capacity to this college is 50. The college continued in the same rented building situated in Cant. Road, Kaiserbagh, Lucknow.
It was historical event when the Government of Uttar Pradesh sanctioned Rs. 1611.31 lakh for purchasing 5 acre land in Gomti Nagar and for construction of new building to house state N.H.M.C. The New premises was inaugurated by no less than the then Prime Minister of India, Sri Atal Bihari Bajpai on 27th Feb 2000. The campushas 5 storied educational cum Administrative block, 2 storied O.P.D block, Four storied , girl's and boy's hostel and quarters for teaching and non-teaching staff.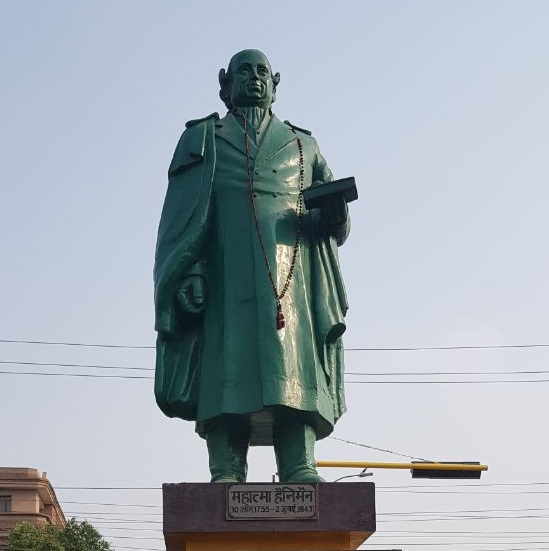 Another Landmark achievement is the installation of our Master Dr. Hanemann 12 feet bronze statue with 10 feet elevation total 22 feet on the main road near state N.H.M.C named as Hanemann Chauraha.
College Tour State National Homoeopathic Medical College and Hospital Click Here